The Cumulus Daybed, from District 8, is a creative and different lounge design. Made from stone-washed fabric, with leather trim, the Cumulus Daybed offers a unique, relaxing lounge option.
Made from stone-washed fabric, the daybed is available in 3 different combinations with artful leather trim, Cork fabric with Jin leather, Nougat fabric with Storm leather, or Husk fabric with Umber leather.
The Cumulus Daybed is the perfect piece of furniture to add a creative and relaxed atmosphere to any breakout area, hotel room, lobby or foyer, office space, or residential living area.
Designer: Darren Chew
Company: District 8
Products Details
Dimensions in cm and weight in kg
| Width | Height | Depth | Seat Height | Unit Weight |
| --- | --- | --- | --- | --- |
| 115.00 | 71.00 | 177.00 | 54.00 | |
Origin
Frame Material
Seat Material
Stackable
Assembly req'd
Outdoor
Warranty
Vietnam
Stone-Washed fabric available in 3 different finishes, with select combination of leather trim
no
no
no
yes ( 24 Months )
Upholstery Options: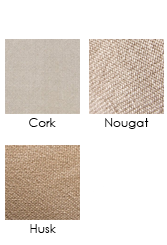 Leather Trim Options: