The Kahn Dining Table, from District 8, is an intricate blend of modern and industrial materials. Designed to emulate bridge construction, with cast concrete legs, a stainless steel frame, and a glass top, this table is a stunning modern design.
The Kahn Dining Table features hand finished cast concrete legs, available in either Acid Black concrete, or Grey concrete. The tempered glass tabletop is suspended on a frame of stainless steel, available in either Black or Plain steel.
The Kahn Dining Table is the perfect option for anyone looking to add a blend of industrial style and elegance to any office space, breakout area, hotel lobby or foyer, or residential living area.
Designer: Darren Chew
Company: District 8
Products Details
Dimensions in cm and weight in kg
| Width | Height | Depth | Seat Height | Unit Weight |
| --- | --- | --- | --- | --- |
| 200.00 | 74.00 | 100.00 | | |
Origin
Frame Material
Seat Material
Stackable
Assembly req'd
Outdoor
Warranty
Vietnam
Stainless Steel with Cast Concrete Legs
Tempered Glass Tabletop
no
no
no
yes ( 24 Months )
Concrete Finish Options: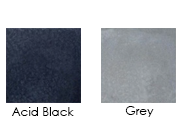 Stainless Steel Options: