The Salk Desk, from District 8, is a simple and stylish design. Made with a solid Oak top, sculpted Concrete legs, the Salk Desk is an elegant, sleek table design.
The desk is constructed with a solid Oak top, available in three different timber finishes, with sculpted Concrete legs, available in two finish options in select combinations, Charred Black oak and Acid Black legs, Raw Oak and Grey Concrete legs, or Seared oak and Grey Concrete legs.
The Salk Desk is the perfect furniture choice to add an element of stylish industrial design to any lobby or foyer, breakout area, office, or residential living area.
Designer: Darren Chew
Company: District 8
Products Details
Dimensions in cm and weight in kg
| Width | Height | Depth | Seat Height | Unit Weight |
| --- | --- | --- | --- | --- |
| 160.00 | 77.00 | 70.00 | | |
Origin
Frame Material
Seat Material
Stackable
Assembly req'd
Outdoor
Warranty
Vietnam
Solid Oak with Sculpted Concrete legs, available in select colour combinations
Solid Oak, available in three different colour combinations
no
no
no
yes ( 24 Months )
Frame Finish Options: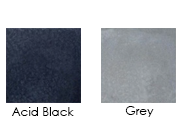 Timber finish options: