Arco Chair – Timber Loop Base (Upholstered)
A contemporary modern chair design with a fully foamed and upholstered single mold polypropylene shell and stylish natural beech timber. This is a stylish sophisticated chair suited to today's modern environment.
This chair not only looks great but is strong enough to withstand heavy duty, commercial use due to its solid construction and quality craftsmanship. Ideally suited for use in restaurants, clubs, food courts, hotels and corporate breakout areas.
Products Details
Dimensions in cm and weight in kg
| Width | Height | Depth | Seat Height | Unit Weight |
| --- | --- | --- | --- | --- |
| 50.00 | 82.00 | 50.00 | 45.00 | 4.00 |
Origin
Frame Material
Seat Material
Stackable
Assembly req'd
Outdoor
Warranty
Asia
Solid Beech Natural timber base with black powdercoated exposed bracing
Fully foamed and upholstered shell in house grey and blue fabric.
no
no
no
yes ( 24 Months )
Upholstery Options: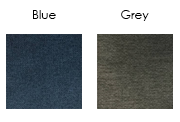 Finish Options: